Radiant Floor Heating
In the past several years, radiant floor heating has been one of the most popular additions to the heating systems we install. It's comfort is unmatched in areas of your home that are usually the most uncomfortable. Radiant floor heating is installed in a floor system on any level of the home. Hot water is circulated through the tubing which warms the floor. By warming the floor of your home, you heat the home from the floor up which is the most effective way of heating any space. It puts the heat down at the level it is needed, rather than at the ceiling where it's not needed. Radiant floor heating provides a constant and comfortable warmth because it heats the floor mass which then radiates that heat upwards rather than heating the air.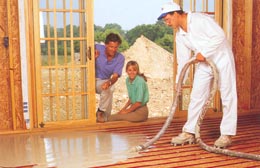 The most common application for radiant heat is in the basement because it tends to be the coldest area of any building. It is also one of the most effective areas to heat with radiant floor heating because the tubing is installed in the concrete and warms the entire mass of concrete. The concrete, then, acts like a huge storage unit and radiates warmth evenly for a considerable amount of time with a small amount of energy to maintain the floor temperature. Workshops are also excellent places to apply radiant floor heating because you spend a considerable amount of time working close to the floor.
Radiant floor heating can be accomplished by using several different types of systems including geothermal heat pumps and electric or gas boilers. We do installation of all three types of systems, but our most popular way of doing radiant floor heat is with geothermal, since it has the most inexpensive operating costs of the three.
Using geothermal to make hot water for floor heat can be accomplished in many different ways and by using different types of equipment like the Synergy 3 or the EW water to water unit. Each system installation is dependent on the amount of floor heat to be installed and where it's being installed in the building.